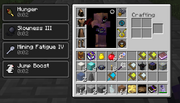 I once went on creative mode and when I turned back to survival, I had infinite debuffs (and also 1 buff    -_-):
hunger + slowness III + mining fatigue IV + jump boost
I drank milk but it didn't work. I don't know why I have them and how do I get rid of them. Please help!