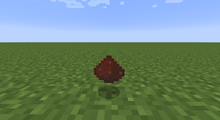 "A combination of materials from multiple worlds, the arcane compound forms the base resource needed to get Arcane ash."
Arcane Compound is smelted in a furnace for two arcane ash and can be used to make staves, spells, and many more items.
Arcane compound is made by placing stone in the top left and bottom right corners, redstone in the top and bottom, netherack in the top right and bottom left and glowstone dust in the left and right slots of a crafting grid.
Community content is available under
CC-BY-SA
unless otherwise noted.