The Essence Refiner is used to create the item form of the essences. These essences are used in many different spell recipes. 
Crafting
Usage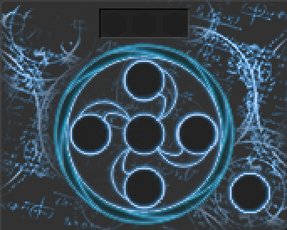 The Essence Refiner works similar to a furnace. Arcane ash is the main component, and always goes in the middle slot. The Essence Refiner requires a source of Etherium, this can be dark or neutral etherium. 
The rest of the ingredients of the recipe then go in the corresponding outer slots. Once a essence recipe matches the items in the refiner, the outer ring will begin to spin and flash red. The contents of the refiner are stored in the block so the UI can be closed if nessacary. If the Refiner does not have a source of etherium, the ring will flash red.
The progress of the refinement can be monitored by the colour of the outer circle. When an essence is being made it will begin to spin and will slowly fade to purple, when it becomes fully purple, the colour will revert, the circle will stop spinning and the essence will have been refined.
Both recipe items and the output slot can stack to 64 items.
Videos